ITEM
DESCRIPTION
Beam stands
Working width
1800mm/2000mm/2200mm/2400mm
Beam dia
800mm/1000mm(optional:1250mm)
No. of beam stands
4-7pcs
Tension control
Controlled by proportional valves
Sizing box
Working width
1800mm/2000mm/2200mm/2400mm(optional:2800mm)
No.of sizing boxes
1/2(optional:3)
Drive system
Variable-frequency drive
Sizing methods
Type A: once immerse & three times squeeze
Type B: twice immerse & twice squeeze
Type C: twice spray & three times squeeze (vertical spray system)
Max.squeeze pressure
15kN for 1st squeezing roller(Type A&B)
40kN for 2nd squeezing roller(Type A & B) and 3rd squeezing roller(Type C)
Squeeze pressure control
Controlled by proportional valves
Rollers(Type A)
Pressure roller: steel roller electroplated by hard chrome
Feeding roller: rubber roller coated by nitrile
Guiding roller: steel roller electroplated by hard chrome
Immersion roller: steel roller covered by stainless steel
1st & 2nd sizing roller: steel roller covered by stainless steel
1st squeezing roller: rubber roller coated by nitrile(with an olive shape iron core: 2400mm)
2nd squeezing roller: rubber roller coated by nitrile(with an olive shape iron core)
Drying cylinders
Working width
1800mm/2000mm/2200mm/2400mm(optional: 2800mm)
Drive system
Variable-frequency drive
Cylinders structure
Type A: parallel type(8/10/12/14 cylinders)
Type B: single layer vertical type(8/10/12/14 cylinders)
Type C: double layers vertical type(12/14/20/22 cylinders)
Heating source
Steam
Max. temperature
150℃
Equipment
Hood, axial flow fans, oiling & waxing
Take-up
Working width
2400mm/2800mm/3000mm/3200mm/3600mm(optional:4000mm)
Beam dia.
800mm/1000mm(optional: 1100mm/1250mm)
Max. speed
120m/min, 135m/min, 150m/min (option: 180m/min)
Drive system
Variable-frequency drive
Max. take-up tension
7000N(10000N for special requirement)
Tension control
Dynamic constant take-up tension (optional: taper take-up tension)
Equipment
Comb device, split sticks, moisture retention monitoring system
Sizing Box
3 types of flexible sizing methods.
The squeezing roller has an olive-shape iron core to ensure sizing uniformity.
The squeezing force is positively related to the sizing speed.
High quality rubber coated rollers with customized hardness according to yarn types.
Linear automatic control with double grouting force ensures simultaneous sizing and penetration.
Size temperature control system enables proper and stable temperature when in different seasons.
Size auto-circulation system ensures uniform size concentration both in the sizing box and in the storage box.
Size level is monitored and will be automatically supplied to maintain a certain level.
Equipped with water-cooled leasing rods between the sizing box and drying cylinders to wipe off excess size adhered to the yarn sheet.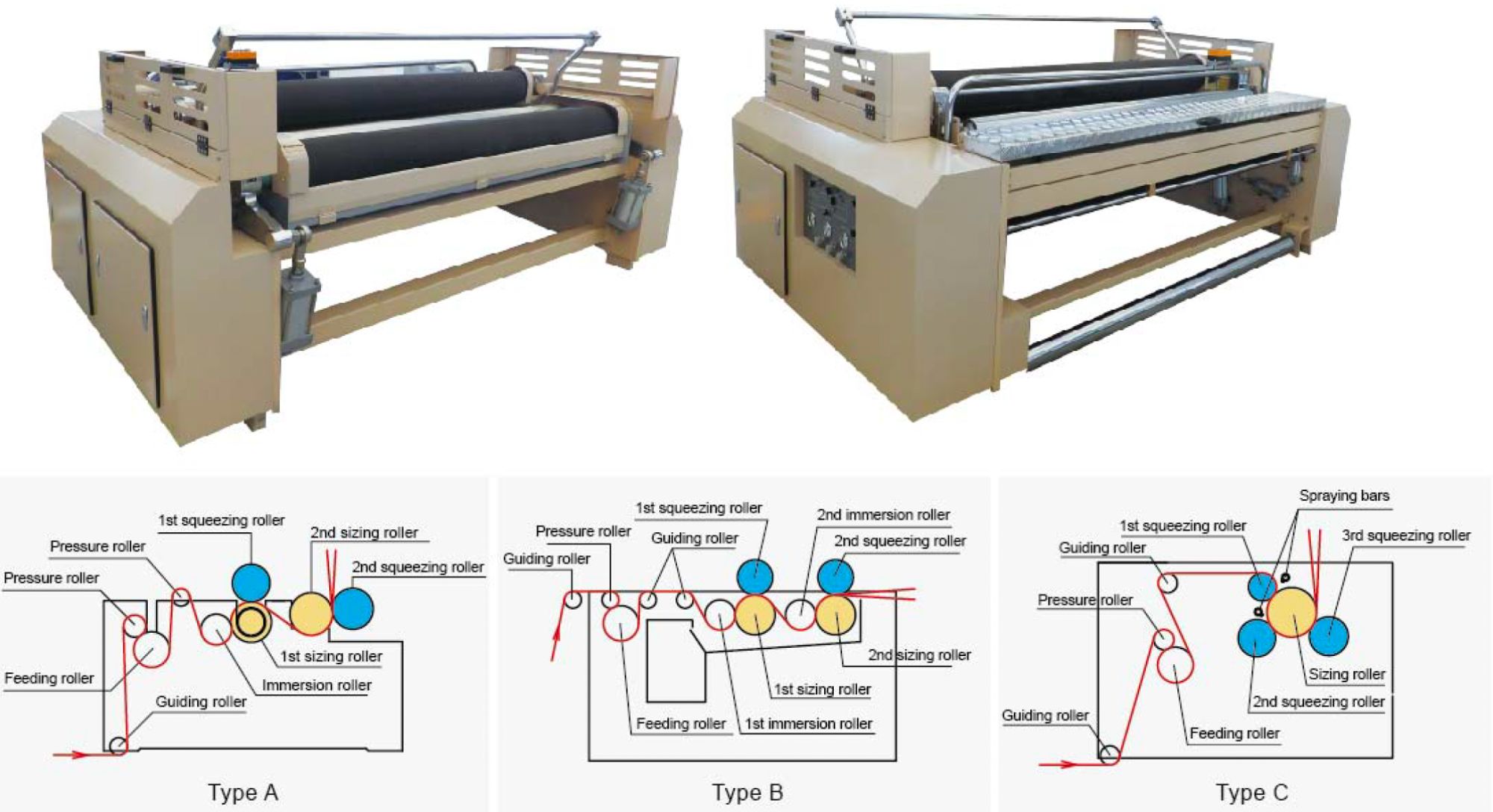 Drying cylinders
3 types of cylinders structures for choose.
Staggered up and down located cylinders increase sheet yarn contact area for higher drying efficiency and less steam consumption.
Cylinders' surface coated with high quality PTFE.
Cylinders meet the minimum run out--T.I.R tolerance ≤0.1mm.
Independent and automatic temperature control for each drying section.
PID control system enables speed to be positive related with the temperature.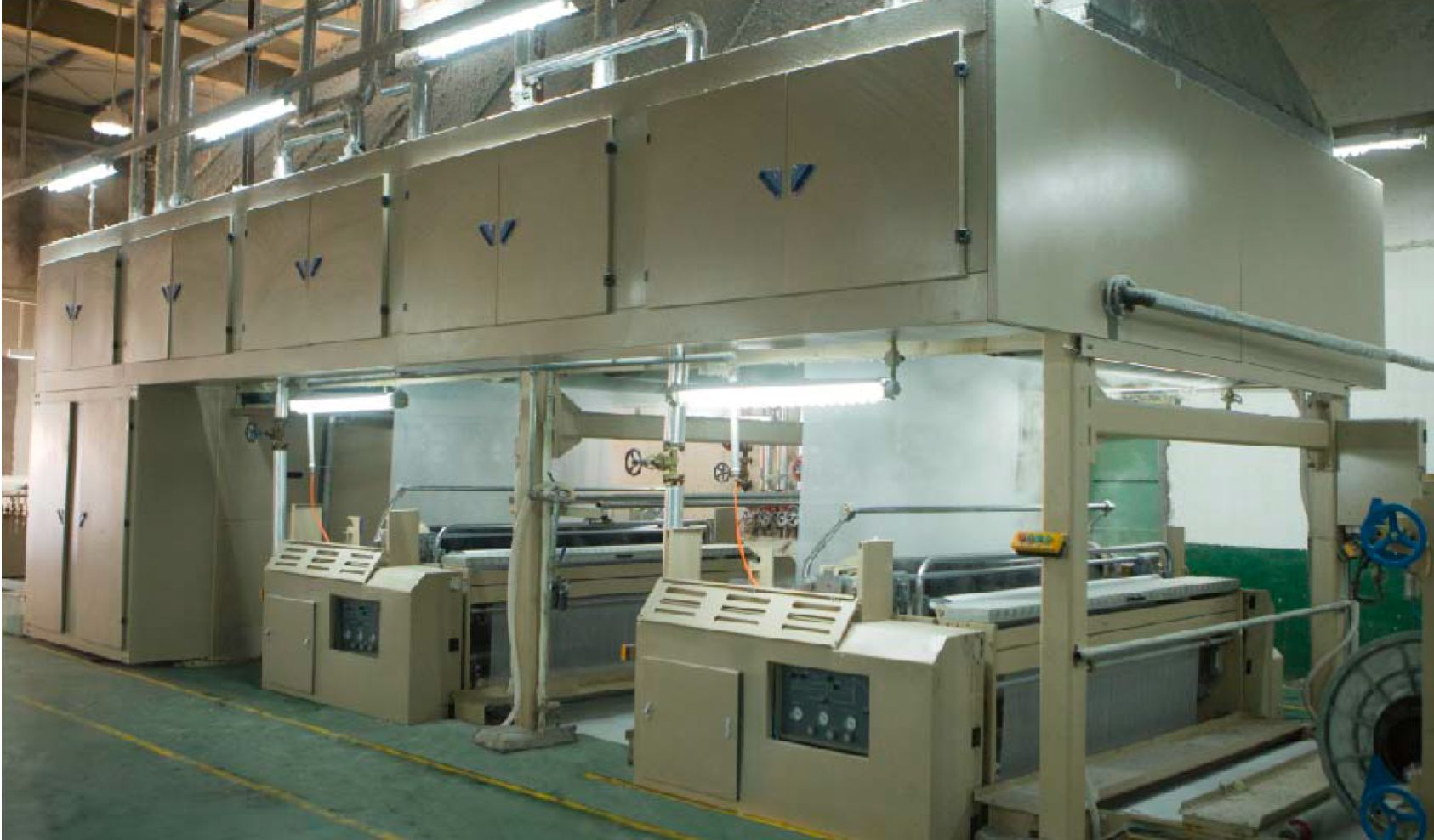 Take-up
Dynamic constant take-up tension in acceleration, deceleration, uniform speed and emergency stop, optional function--taper take-up tension for special yarn and the take-up tension will linearly decrease as beam diameter increases.
A wide range of take-up tension adjustment to satisfy various yarn types.
Comb device slightly moves horizontally and vertically for shaping a uniform distributed sizing beam.
Moisture retention monitoring system automatically tests the moisture retention of the fabric.
The take-up speed varies automatically according to a target moisture retention value.
Equipped with a safety net and a lift for operator's safety and easy operation.


Control system
The GA398 Staple fiber sizing machine is equipped with standardized variable-frequency control system. Precise and stable tension control can be achieved in all working conditions. Moreover, a variety of sensors work closely in the system to make machines more intelligently.


Item

Description

Speed control

Multi-section variable -frequency drive motors

Tension control

Dynamic tension control & feedback control system automatically enables accurate tension within each tension area during operation even during acceleration and deceleration

Stretch control

Stretch can be set individually in each tension area according to technical requirements and yarn types

Moisture retention monitor

Once set, the moisture retention can be automatically maintained

Temperature control

Temperature of steam and size can be automatically monitored by sensors in the sizing boxes, in the storage box and in the drying cylinders

Squeezing pressure control

Squeezing pressure is pneumatically controlled by proportional valves

Parameter setting

Fast setting and adjustment system for different yarn types

Diagnostic display

In case of a problem, the diagnostic picture displays

The diagnostic picture offers possible reasons when errors occur

Event record

The system can automatically record events during operation for easier memory, e.g, change of yarn types

Technics record

1000 technics data can be stored in the system

Operation graph

The system offers operation graph, e.g, tension fluctuation graph, for better operation management

Air pressure protector

When the compressed air pressure is below a target value, the speed will automatically lower to protect pneumatic components