How to Change the Operation of Air-Jet Loom When Weaving Glass Fiber
The characteristics of glass fiber are--1, single variety; 2, once the form is fixed, it will not change; 3, glass fiber has big rigidity, but easy to blow off 4, for fabric width within 1.5m, the tension is smaller, generally less than 589N. 5, as glass fiber fabrics are used as the substrate for the PCB board in electronics industry, dust, grinding crack are not allowed.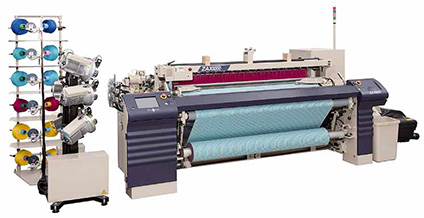 The changes of existing air jet looms for weaving glass fiber are as follow,
1.Use a tension sensor under 200KG or with higher sensitivity.
2.Change the back beam to double beam for stabilizing tension.
3.Shorten the length of the beating crank for adapt to 800r/min high speed weaving.
4.Changing the angle of the guide bar, making the beating angle close to 90 degrees.
5.Increase draft nozzle to prevent weft rebound.
6.Add vacuum cleaner to remove the floating flowers
7.Modify left and right scissors, adopting chipping method to prolong the service life of the scissors.
8.Shorten the auxiliary nozzle spacing and increase the traction.
9.Use the filament main nozzle