Sinotextile Offers Loom Electronics and Circuits Repairation Service
Our company offers repair services for electronics and circuitry in weaving machines. Our engineers have abundant experience, a well-equipped workshop, and testing apparatus to quickly and accurately identify and solve problems with printed circuit boards.
After repairing the PCB, we test it on the weaving loom and then repack and send it back to you. You will always receive your own boards back. The repaired circuit boards come with a 3-month warranty.
In addition, we also have second-hand original circuit boards for weaving machines from brands such as Picanol, Somet, Smit, Vamatex, Sulzer, Toyota, Tsudakoma, Itema, Muller, and more.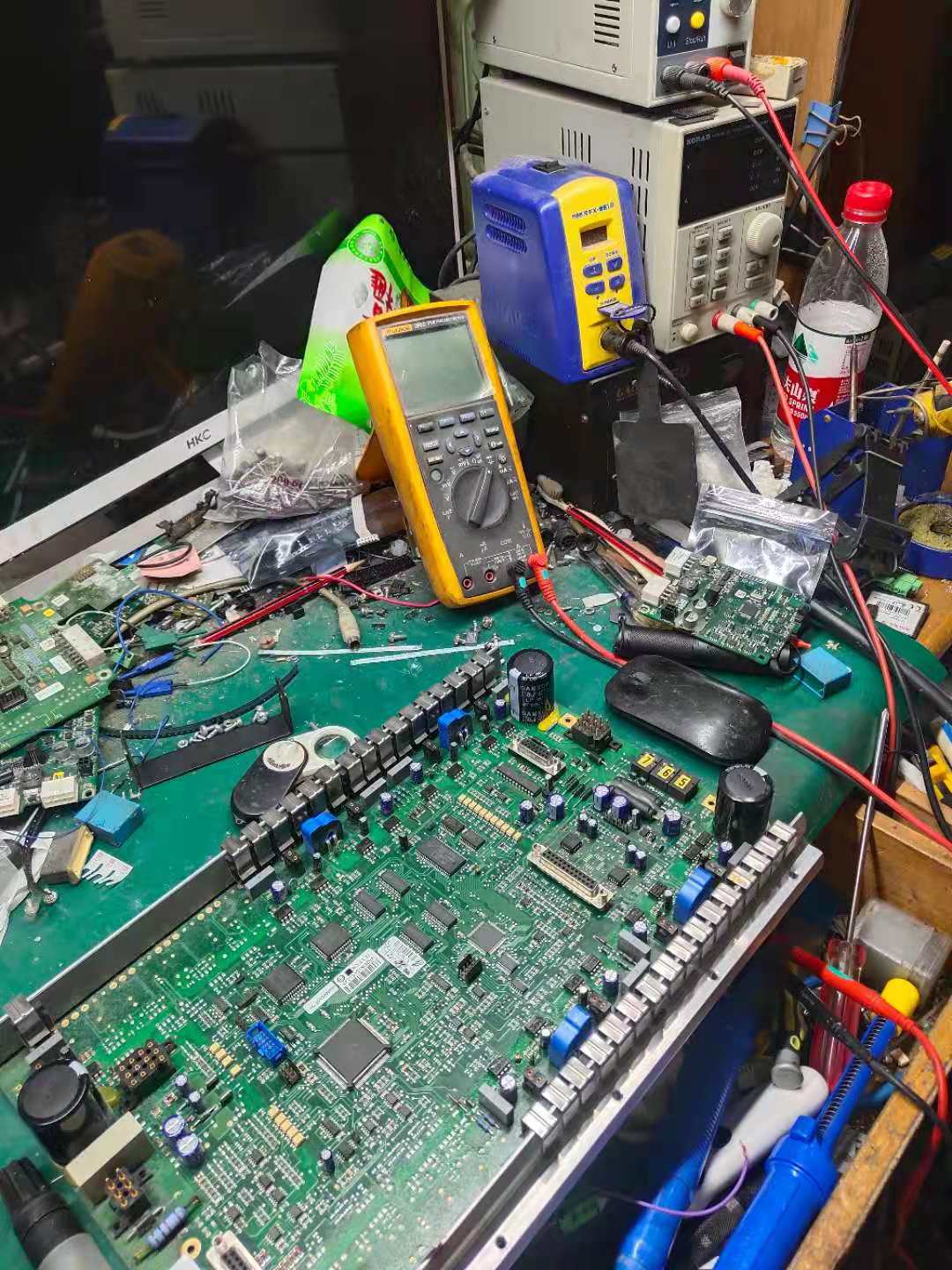 Weaving Loom Circuit Under Repairing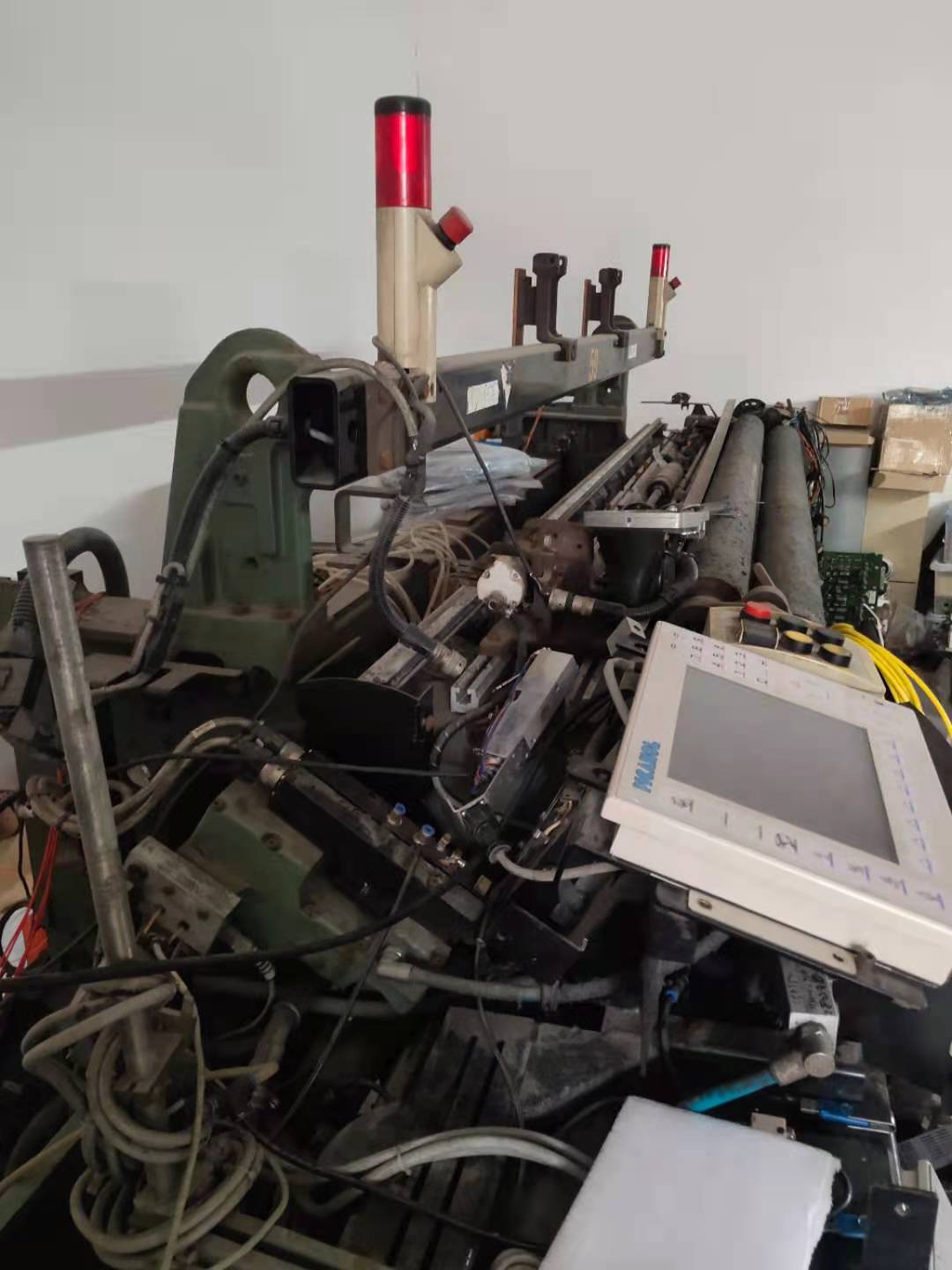 Weaving Loom for Circuit Testing Purpose
We can service for following electronics and circuits--
PICANOL OMNI
BE153017-PRINTED CIR TUPULO-1, BE150951/BE151693, 31.9061.0100-2231B, 31.9035-2231, BE151632-PRW/4C-1, BE152720-FEELER BOARD, BE153397-CPUE, GDLP-2 BE152373, DIS BE153319, AUT/P-2 BE152689, AISQ-B-2C-1 BE151623, PS-3 BE151880, SUP-2F BE202461, PSD-1 BE151989, AISC/2C-PFT-4 BE151611, AISE/T280-4 BE151701, CPUE-1 BE151563, CPUE-3 BE154114, GDLP-2 BE152373, AVT BE154108, ATS BE151612, AISE BE151701/BE151702, ODS BE1154108, SVPVLO-1 BE153567, SVP-2 BE202461, SVP-3 BE205736, KBDE BE152255, AISQ BE151624, ELO BE152935, PS-4 BE153052, SMPS BE150773, PRW BE153295/BE153296

PICANOL OMNIPLUS
PB-3 BE304289, PB/J-3 BE604290, PB-4 BE306403, PB/J-4 BE306404, SUP-BE205736, DDMP-4 BE305108, DDMP-4V4 BE241928, BE302460-PRINT TRIAX BOARD, BE218386-PDAF, BE312102-WEB/WEF-2, BE312165-CCB-2, BE309815-CCB-2, BE308090-IDB/S-4, BE302557-MIDB, BE304041-FDIPRINT

PICANOL OMNIPLUS 800
PB-3 BE304289, PB/J-3 BE604290, PB-4BE306403, PB/J4 BE306404, BE312165-CCB-3, BE3091815-CCB-2, BE308090 IDB/S-4, BE302557-MIDB

PICANOL GAMMA/GAMMAX
BE153017-PRINTED CIR TUPULO-1, PB-3 BE304289, PB/J-3 BE604290, PB-4 BE306403, PB/J-4 BE306404, BE212360-1B/2E-2, BE300981-MID, BE205736-SUP, BE153720-1B-2, BE201275-IBE-1, BE213223-TUPULO/S-1 BOARD, DDMP-4 BE214832, DDMP-4V4 BE241928, MB-2 BE152730, MB-3 BE154530, MB-5 BE215890, RPT SENSOR BE213902, BM-100045 POWERBOX-BE211690, SUP-BE205736, POWER SUPPLY-N1024508, MAGNET-BAR F29246465, ADJUSTABLE RESISTOR 205K Ω-AVR. INTERNATIONAL 2121910(2K2±20%), KEYBOARD-BE209982, MOTORELO/ETU BE310752, ELSY MOTOR-BE208333, QS MOTOR-B156686, COIL BRAKE-BE206687, WASTE CUTTER-BE309505, WEFT DETECTION SENSOR-BE91871/BE83695, COIL CLUTCH-BE201263, PB-3 BE304289, PB/J-3 BE604290, PB-4 BE306403, PB/J-4 BE306404, BE302557-MIDB, BE302460-PRINT TRIAX BOARD

PICANOL OPTIMAX
BE239976-EMBB1020-1, BE221526-RBMM110-1, BE222345-CBMM-2, BE221528-0BMM, MB-4 BE214480, MCB-BE305108-4, BE218867-6, BE222887-7, BE242233-9, OPP-09E616100, 31.9125.008, BE240212

PICANOL DELTA
BE152421 VPM-LT, BE151543 VPMD, BE151081/BE15295 SMU/LV-2, BE152720 FEELER BOARD, 31.9035-2231, LIE BR 1 BE153694, OB/B/-1 BE15112, SMU V 2 BE15108, PSU 3 BE151398, MBP/C-1 BE151986, VPMD-2 BE151542, 31.9061.0100-2231B, BE151632-PRW/4C-1, BE151081/BE15295 SMU/LV-2

PICANOL PAT
BE93298 PWRPS, BE83252/BE93408/BE93068 SMPSS, SPU-3 BE82480, SPU-2 BE93064, SPU-3 BE91499, CPUX-1 BE93607, KDR-P1 BE91492, KDR-P1 BE93608, TIK/B-1 BE91503, SPU-2 BE3064, TIK/-1 BE91505/BE91943, SPU-3 BE82480, FPR/P-1 BE824260, FPR/PA-1 BE82288, ELO 700 BE152935, PWRP-2 BE91700, KISP=F2 BE91638, KLMX-T3 BE82418, SMPSS-2 BE93408, SMPSS-3 BE93068, SMPSS-3 BE83252, PRC/-1 BE8287, KLMS-T2 BE93319, PRA/M-2 BE82706, KLMS-T4 BE83052, KLMS-T4 BE83051, SMPS-2 BE91235, PWRPS-2 BE93238, DPSK-P1 BE91495, TUPULO BE153017, VDPF-1 BE93597, VDPS-2 BE93348, 8407 107-6366-0003/107-6352-0003, CPU-2 BE153397, PRW/2C-2 BE153295, DTS-1 BE153319, AIS C4PFTC4 BE151610

SUZHOU PICANOL
BE83763-SPT-P-1, BE213223-TUPULO/S-1BOARD, BE83809

PICANOL OTHER
BE213399 PBRJ-1, BE205928 KBDX-2, BE314998 KBDX-4, BE303188 TRIAX/D-2, BE315253/BE302268 IPS BOARD, BE312103 CEB-2, BE300527 WEB, BE219586 1BR-5, BE221026 IBR-6, BE222402IBR/8C-7, BE300984 BPO-1, BE222757EPDAF/C-1, BE238483 EPDAF-3, BE313189 EPDAF-1, BE222767 UEB-3, BE314999 KDBX-4, BE310395 FDCB, 31.9130.000 PREWINDE BOARD2231X2, 27.9104.0001 STELLA190, 58.9001/BA313381, BE310656 SPSE-1, 31.9126.000 CANPLUS2231, BE214689 INRUSH-2, BE151400 PRW/2C-1, BE153694 LOE/BR, BE91503 TIK/-1, BE151395 MBL, BE151986 MBP

PICANOL GTX
SMPSS-2 BE93408/BE93068, CPUX-1 BE93607, SPU-2 BE93064, TIK-1 BE91505, KDRX-1 BE93608, KISG-2 BE8286, QS-2 BE83353, PWRGS-1 BE93297, VDG-1 BE91274, VDM-LT BE152421

PICANOL GTM-AS
SMPSS BE93408/BE93068, CPUX-1 BE93607, SPU-2 BE93064, TIK-1 BE91505, KDRX-1 BE93608, KISG-2 BE8286, QS-2 BE83353, PWRG-1 BE93297, VDG-1 BE91274 BE82968/BE93395

PICANOL GTM
SMPSS BE91235, CPU BE91499, DPSK BE91495, INT BE91669/BE61668/BE91501, KDR BE91492, KISG BE91239/BE91468, PWRG-2 BE91725

SOMET SM92
A1EG52A, A1EG25C, A1EG25B, A1EG325B, A1EG22B, A1EG21A, A1EG20A

SOMET SM93
210-A2E962B, 220-A2E963B, 230-A2E964A, 240-A2E125A, 250-A2E966A, 260-A2E967B, 270-A2E968C, 300-A2E971A

SOMET TM11 101/102
SC510, SC520, SC530, SC540, SC350, SC560, SC570, SC580, SC590, SC600, SC640, SC730,
SC731, SC710, SC720, SC523/1, SC530, SC5313E, SC533/1

SOMET TM11 103/104
TH510, TH520, TH530, TH531, TH532, TH532/S, TH580, TH590, TH550, TH600, TH610, TH620, TH630, TH640, TH650, TH710, TH720, TH730, TH731, TH800, TH900, TH1000, SD110, AZ8-16

SOMET TM11E EXCEL/SUPER EXCEL/ALPHA I/II
EWE114A-BN-256HSR, A5A015A, MCU-A4E034A/D, EG1/1-A5E034B-HEGX-2C, OPT1D-A4E063A, OPT4A-A4E049A, MCU-A5E033A/A5E091A, DST-A2EL09B, EG1-A5A015A, OPT-A5E045B, PCD-A2EL86B/A2EL87B, A2EM08B/A2EM09D, EEAR05A/EEAR06A/EEAR07A, A0EL86B/A0EL87B, PSS-A2EM08B, MCS-A2EL03C, A5E161B, ESC-A5E049A, ESC, EEAR04A-AZ8-16, EEA9982-AZ-16, EEAR05AAZ1-8-16, IO1-A3EK03A, IO2-A3FK04A, IO3-A3EK06B/A3EK05B, IO4-A3EK08B/A3EK09A

SOMET MYTHOS
OPT, MCS, MCU, EG1, IO1, IO2,IO3, IO4, DST, PCD, PSS, A21-8-16, ESC, AZ, VPS, ELD, SMD, HJPA-3C, 104, SV110, SV210, WCB

VAMATEX P401/C401
AT1200-50H224, 0860020-50H261, 50H164, 9040118, 0340061/9340046/9340049, 0860155, AT1200, 0860051-50H218, 0860011-50H85, 0860013-50H239, 0860005-50H81, 0860037-50H275, 0860007-50H83, 0860077-C401, 0860155-P401, 0860021-50H97, 0860022-50H220, 0860014-50H165, 9040147-4P/6P/5.5P

VAMATEX P1001/ES/EK/K88/R880
EED413A, A5E184B, MHMD-2B A5E179A, A5E164B, A5E182B/A5E182A, 0864023.1, 1711399, 1712141, 0860361/0860409.2, 0860658, 9850555.1, 0860362, 0860453.4, 0860078, A5E181A, 0860445.3, 0860446.3, 1860452.2, 09E219, 0860568, 0860454.1, A5E189A, A5E168A, A5E180A, 2558290, 2558288, 9850554.1, 9850372, 9850993(4X3), TS2640N671E110, 2691646, 2558290, 2691646, 2691641/2691619/2191617, 2691498

NUOVO PIGNONE SMIT TP500
PBO71202, PBO71205, PBO71206, PBO71211, PBO71212, PBO71213, PBO71238, PBO71248 PBO71258, PBO71260, PBO71272, PBO71273, PBO71276, PBO71280, PBO71281, PBO81282, PBO71284, PBO71285, PBO71286, PB071287, PBO71288/PBO71289/PBO71290/PBO72191, PBO71292, PBO71295, PBO71297, PBO71298, PBO71299, PB071303, PB071305, PB071308, PBO000001000, PBO000002000

NUOVO PIGNONE SMIT TP600
PSO000003000, PSO000005000, PSO000006000, PSO000007000, PSO000008000, PSO000009000, PSO000010000, PSO000011000, PSO000015000, PSO000016000, PSO000017000, PSO000026000, PSO000029000, PSO000030000, PSO000032000, PSO000033000, PSO000034000, PSO000039000, PSO000040000, PSO000041000, PSO000043000, PSO000044000, PSO000047000, PSO000048000, PSO000051000, PSO000052000, PSO000054000, PSO000056000, PSO000058000, PSO000061000, PSO000062000, PSO000063000, PSO000064000, PSO000065000

NUOVO PIGNONE SMIT FAST-P
PSO000003000, PSO000007000, PSO000008000, PSO000009000, PSO000010000, PSO000011000, PSO000017000, PSO000021000, PSO000022000, PSO000026000, PSO000027000, PSO000028000, PSO000029000, PSO000030000, PSO000032000, PSO000033000, PSO000034000, PSO000039000, PSO000040000, PSO000041000, PSO000043000, PSO000044000, PSO000046000, PSO000066000, PSO000067000, PSO000068000, PSO400007000, PSO701000000

NUOVO PIGNONE SMIT FAST-R
PSO000047000, PSO000048000, PSO000049000, PSO000050000, PSO000051000, PSO000052000, PSO000053000, PSO000054000, PSO000055000, PSO000056000, PSO000057000, PSO000058000, PSO000059000, PSO000061000, PSO000062000, PSO000081000, PSO000082000, PSO000086000, PSO000095000, PSO000096000, PSO000014000, PSO000147000, PSO701000000

NUOVO PIGNONE SMIT FAST-S
PSO000047000, PSO000049000, PSO000054000, PSO000058000, PSO000059000, PSO000071000, PSO000076000, PSO000080000, PSO000081000, PSO000082000, PSO000083000, PSO000086000, PSO000088000, PSO000089000, PSO000093000, PSO000094000, PSO000095000, PSO000118000, PSO000119000, PSO000129000, PSO000130000, PSO000140000, PSO000147000, PSO140406000

NUOVO PIGNONE SMIT FAST-T
PSO000047000, PSO000054000, PSO000076000, PSO000080000, PSO000086000, PSO000088000, PSO000089000, PSO000094000, PSO000098000, PSO000099000, PSO000113000, PSO000114000, PSO000118000, PSO000119000, PSO000126000, PSO000129000, PSO000130000, PSO000147000, PSO140406000

NUOVO PIGNONE SMIT G6300
PSO000148000, PSO000149000, PSO000150000, PSO000151000, PSO000152000, PSO000153000, PSO000154000, PSO000156000, PSO000157000, PSO000158000, PSO000159000, PSO000162000, PSO000164000, PSO000160000, PSO000170000, PSO000171000, PSO000172000, PSO000174000, PSO000175000, PSO000176000, PSO000177000, PSO000179000, PSO000185000, PSO000186000, PSO000187000, PSO000188000, PSO000193000, PSO000194000, PSO000195000, PSO000197000, PSO000205000, PSO000206000, PSO000207000, PSO000208000

NUOVO PIGNONE SMIT GS900
PSO000156000, PSO000158000, PSO000194000, PSO000205000, PSO000206000, PSO000208000, PSO000209000, PSO000210000, PSO000214000, PSO000215000, PSO000216000, PSO000217000, PSO000218000, PSO000225000, PSO000226000, PSO000227000, PSO000232000, PSO000243000, PSO000248000, PSO000252000, PSO000253000, PSO000254000, PSO000255000, PSO000259000, PSO000260000, PSO000260000, PSO000261000, PSO000260000, PSO000272000, PSO000261000, PSO000267000, PSO000272000, PSO000275000, PSO000278000, PSO700000000, PSO701004000

NUOVO PIGNONE SMIT GS920
PSO000158000, PSO000205000, PSO000206000, PSO000208000, PSO000209000, PSO000210000, PSO000214000, PSO000215000, PSO000216000, PSO000217000, PSO000227000, PSO000241000, PSO000248000, PSO000252000, PSO000253000, PSO000254000, PSO000255000, PSO000259000, PSO000260000, PSO000260000, PSO000261000, PSO000260000, PSO000272000, PSO000261000, PSO000266000, PSO000267000, PSO000270000, PSO000271000, PSO000272000, PSO000275000, PSO000278000, PSO700000000, PSO700001000, PSO700002000, PSO701004000, PSO701011000