The Characteristics Prospects for Development of Shuttleless Looms
The performances of shuttleless looms
Four kinds of
shuttleless loom
s' common basic characteristics is the filling package separated from the shuttle, or only carry a small amount of yarn with small and light weft insertion device instead of large and heavy shuttle , which provides favorable conditions for high speed weft. In the supply of weft, it is directly used for winding, and the weft insertion mechanism is inserted into the weft insertion mechanism, so that the loom is free from frequent weft insertion. Therefore, the adoption of shuttleless looms is of great significance for increasing fabric varieties, adjusting fabric structure, reducing fabric defects, improving fabric quality, reducing noise and improving working conditions. The speed of shuttleless looms is usually 4-8 times higher than that of a shuttle loom, so a large area of shuttleless looms can greatly increase labor productivity.
Because the structure of the shuttleless loom is improving, with a wide range of materials, increasingly high precision processing, coupled with the development of world science and technology, electronic technology, and micro electronic control technology is gradually replacing the mechanical, the shuttleless loom is developing better and better. The manufacturing technology of shuttleless loom is metallurgy, machinery, electronics, chemical and hydrodynamic force of multidisciplinary combination. They are high-tech products with electronic technology, computer technology, precision machinery technology and textile technology.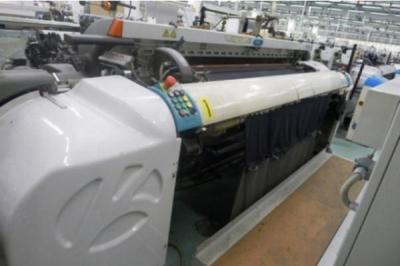 The developing situation of foreign shuttleless looms
The shuttleless weaving technology has been studied since nineteenth century and has been gradually pushed into the international market since 50s. Since 1970s, many new shuttleless looms have been put into the market. Especially in the past 10 years, shuttleless loom to improve the fabric and improve the efficiency of the loom has achieved remarkable results, which have been widely used in the world, and accelerated the process of transformation of weaving equipment. Many developed countries share the shuttleless looms, and it has reached about 80%, appearing the big trend of the replacement of shuttleless looms. The good momentum of rapid development of shuttleless looms can be confirmed from the following three aspects:
First, the shuttleless loom manufacturing industry has risen rapidly. At present, the most famous manufacturers and brands in the world are as follows:
Italy shumeite (SOMET) company Pegasus produces super excellent rapier loom, air-jet loom Martha Chi. Italy Smit (SMIT) FAST produces rapier loom. Italy Emmett fan (VAMATEX) LEONATDO produces rapier loom . Swiss Su Ershou (SULZER) company's P7300 type loom and G6300 rapier loom, Belgium Picanol (PICANOL) Company's production of GAMMA rapier loom and air-jet loom, Tsudakoma company production of ZAX series and ZW series of air-jet loom, water jet loom, the Japanese Toyota Corporation's production of JAT610 air-jet loom, the German Dornier (DORNIER) HTVS's production of rapier loom and air-jet looms LWV company.
These manufacturers have strong productive development, technical strength and capable marketing team to achieve highly specialized and socialized mass production. Although the shuttleless looms of these manufacturers are expensive, their products have been selling well in the international market because of their good performance and stable quality.
For components and devices supporting the shuttleless loom, there are several famous manufacturers and famous brand products, such as the Swiss Shi Tao Bill (STAUBLI), open dobby and jacquard device company, Graff (GRAF) Company Menolipsis device, heald frame and steel frame, Eero of Sweden and Holland (IRO) Company Benitez (TES) company prewinder. They have stable and reliable quality, best-selling products in the international market.